Jake (the guy who Becca turned down TWICE, once in Minnesota and once on Night 1 of The Bachelorette) wore a casual black suit and white collared shirt with the first two buttons undone. He thought he'd go for classy classic, but it's forgettable. Just. Like. Him.
Venmo John is a lot of things, but an outfit organizer he is not. He tried to pull off the dressy casual vibe but he's not confident enough to pull off the unbuttoned look. His attempt at being impossibly sexy just looks like a wardrobe malfunction. Poor guy.
Kamil, the social media participant who wants a woman to do all the work in a relationship, subtly spiced it up with a grey glen check suit, but it's like the garlic salt of spice. It barely counts.
Christian, another Night 1 Reject, wears a black suit with a white shirt. The only thing that doesn't put him at the bottom of this list is his decision to throw on a black, possibly velvet, bowtie. Seriously, how did you get an invite to this?
Lucky number thirteen goes to our timeless host, Chris Harrison. Chris is also wearing a white dress shirt that is only sightly brighter than his teeth. He gets points for coordinating his janky purple checkered tie to match the heinous studio lighting.
Former Harlem Globetrotter Christon is boring in black suit and white shirt. He gets credit for his possibly patriotic lapel pin and diamond earrings. His accessories are reminiscent of a D2 college assistant basketball coach.
Jean Blanc is attempting a sultry vibe with a silky, black shirt and a navy suit with black details. He's also got a pocket square, because he's a fucking serious perfumer.
Jordan keeps it low-key nautical with a navy suit. His dress shirt is flecked with light pink and blue lines to give it a textured and laid back vibe. It's sharp with a very basic level of pizzazz. It's the perfect amount of subtle flare to balance out Jordan's antics.
Colton was clearly overwhelmed before he even stepped on stage. He was so flustered, probably by his virginity, that he decided to wear a black fucking t-shirt beneath a black, shimmery, paisley jacket. I wanted to be excited about his fluffy pink pocket square, but the t-shirt was the nail in the coffin.
Chicken suit boy, David, is a slightly elevated Jeff Daniels from Dumb and Dumber in his light blue tweed suit. He's got a milk chocolate colored tie and pocket square with a white collared shirt. Props for wearing a tie. This isn't a joke for David. He's all business, yet it's still somehow a costume…
Joe, the Chicago grocer, was clearly nervous to appear on television since receiving a disproportionate amount of hype after being tossed aside Night 1. He made a strange and bold choice to go very dressed down.  He wore a collared shirt full of potent symbolism, unhindered by a jacket. There's bear faces (Chicago loves their shitty football team), hearts (because LOVE) roses (nod to the franchise), the number 26 (not sure the significance), and stars. Joe's shirt is a riddle, just like Joe.
Chris Randone is a modern day Ben Stiller as Uncle Tony Perkis, the psychotic health coach from Disney's 1995 movie, Heavyweights. He's in a black suit, and he's introduced a dab of detail with the red, black and white paisley lining on his black collared shirt. He aims for sexy-cool with three buttons undone.   The ultimate cosmetic detail, however, is Chris's careful removal of the top half of his moustache. Instead of applying an equal and even trim to his face, he's created a strange, distracting stripy upper lip. WHY?
Jason is in full blown campaign mode in his manner and his clothing. He's got a navy suit with a subtle floral pattern, a light blue collared shirt with one purposeful button undone. The real professional touch here is his pocket square. The men who were smart enough to include a pocket square stuck to a boring, boxy fold. Jason outshone his brothers with an angled peaks fold. He looked good, but I was distracted by how hard he was trying.
Stuntman Leo arrives in a respectable and intriguing red rose-colored suit. His dress shirt has a delicate flower pattern and he's got a fine striped pale pink tie, but is that a schoolboy knot, Leo? You're better than that, bro. He's rocking a gold watch and a white hair tie on his wrist, and poorly chosen purple, blue and white argyle socks with brown suede shoes. Leo's chiseled Dothraki face and merman hair are undeniable goals, so his footwear choices are somewhat forgiven.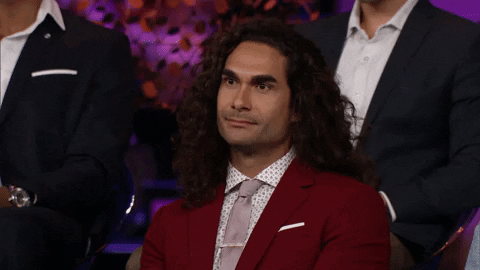 Nick, the blonde who showed up to one of his very few Rose Ceremonies in a tracksuit, is doing the absolute fucking most. He's wearing a navy suit with a light blue shirt that has a deep blue lining. Nick has undone at least 5-6 of his buttons to reveal a freshly shaven chest and Greek cultural gold necklaces. His pants are cropped which give way to his sockless look in taupe loafers. He loves himself.
Connor. You know, the guy who pivoted from idiot picture thrower to sexy young thang with the glasses?  He came to fucking DANCE. Connor had on these retro tortoise shell Clark Kent glasses, a playful paisley blue and turquoise blazer with a black lapel, and a freshly pressed white collared shirt with EIGHT buttons undone to highlight his Ken doll chest. Like his boy, Nick, Connor is also wearing no socks and chose to punctuate his look with white loafers. He's got multiple gold bracelets that are made visible as he raises his hands to prayer in front of his face to thank the audience for their applause.  To say he delivered the people a solid lewk for Men Tell All is a massive understatement.
No one is better than Wills, and you know it. Wills is the ultimate swagmaster. He's unique, he's classy, he's playful. He's wearing a Scottish bagpiper green, navy, and red plaid suit. His white collared shirt is buttoned all the way up and he's not wearing a tie. There's a black and white checkered pocket square over his beautiful heart, but the clincher is his bright red suede ankle boots. It's all making me feel some type of way. Wills continuously finds a way to have fun, be brave and be himself, and his outfit choices mirror his lovable spirit.