No one is lucky this week in Vegas. Not a single one.
Becca's stylist MUST be fired. At the top of the episode we see Becca in a grey top reminiscent of a waffle knit J Crew factory find. The thick neckline of this tragic top is basically a knockoff black and white striped Adidas athletic sweatband. There's of course a bomber jacket, and then there's this chunky, Swarovski, y-shaped necklace that is wildly unbecoming. Those "diamonds" might not be plastic, but the cut of each of the clunky rocks is incongruent to the delicate shape of the necklace. The piece lacks grace, and it shows that there's an amateur dressing and accessorizing The Bachelorette. It's neither drippin' with finesse nor twinkling with class. It's a Khol's jewelry counter nightmare. Oh, and then she's got these gross green drop earrings encrusted in twinkly faux-looking bling. Lastly, there's pleather leggings. Becca is not safe. She was better dressed when she was left to her own devices as a contestant on The Bachelor than she is with a personal stylist as the lead of The Bachelorette.
Here's one thing that is for fucking sure: Vegas is most certainly for the boys. The guys were like Kevin McCallister in the Central Park Suite at the Plaza Hotel. Giddy. As. Fuck. As the boys lose their shit over their epic views of The Strip and their cushy surroundings, Becca greets them from a balcony in the common area of the boys' suite. Her smile and demeanor is OVERLY perform-y. I feel like I have so little sense of what this girl is actually like. I get it, you're the lead of this show, and when you're around all the guys you have to play "host" a little bit, but she's so "on" that I'm left feeling annoyed at her unauthentic vibe.
Colton's date card read: Colton, let's ride off into the sunset together.
What it should have said is: Colton, let's get heat stroke while riding cranky camels at high noon, and then drink champagne in a hot tub in the blazing dessert sun. 
Fortunately for Colton the Virgin, the illustrious Camel Safari is located along Virgin River. I honestly wouldn't be surprised if they chose Vegas as this week's location because it's near Virgin River. They can save money on yet another domestic trip, they can perpetuate the idea that virginity is embarrassing, and they can continue to phone it alllll in with these lame dates.
Colton shares one boring anecdote about his past relationship where he said I love you and his ex-gf didn't say it back. His doofy deer in headlights smirk is ever present and Becca is overjoyed at his mediocrity: "I feel like we are on the same page." He gets the rose and will be with us for another week…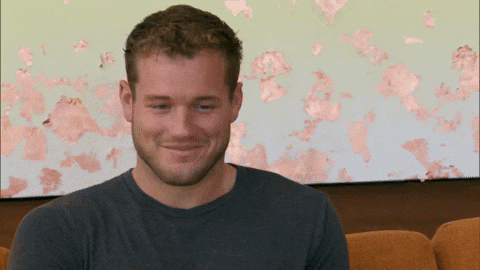 Wills, Blake, John, Connor, Leo, Lincoln, Jason, and Chris have the once in a lifetime opportunity to visit Wayne Netwon's Casa de Shenandoah. 76-year-old Wayne comes careening across his plantation on his trusty steed to greet Becca and the boys. Wayne moves through time and space with the robotic energy of an original Westworld host. He dyes his hair jet black, his skin is Trumpy orange, his teeth glow in the dark, and his skin is shellacked with so much botox that he might not be able to fully shut his eyelids.
After Wayne sings a shaky, cringe-worthy version of Danke Schoen to his 54 year old wife, the men are left to write their own lyrics about Becca to the tune of Danke Schoen. This date was the ultimate joke. I can't decide if it was purposefully designed in such a fucked way to see which men can march on and make the best of a dire situation, or if production actually thinks it's fun and funny to watch untalented performers attempt a musical number in front of an audience. Some of these guys were so ashamed of their lack of singing skills that they went the slam poetry route and just disregarded all musical notes and cadence.
Chris Randone previously had a 1:1 date with Becca at Cadillac Records where Richard Marx guided him to write an original song for Becca. That was Chris' dress rehearsal. He was being primed for this group date. When he got up on stage in Las Vegas, he made jokes, he was hyping up the crowd, he was shameless. It was awful, but he sold it.
After the performance Chris made the classic mistake of resting on his laurels. He made zero moves to seek Becca out during the cocktail party. Your performance wasn't enough, bro, and in an environment where you are literally competing with men for a woman's attention, she's not gonna come find you. You gotta go get HER. The cocktail party ends with Chris getting no solo time with Becca, and the group date rose is gifted to Blake, the best kisser this season. Chris cannot handle this.
The 2:1 date is honestly not even worth discussing in detail. Obviously both David and Jordan were destined to be sent home, and fortunately for us they were both knocked out this week. All this date did was give us a little glimpse into Jordan's background other than modeling, most notably: he had a humble upbringing and his mother suffers from multiple mental illnesses.  Both Jordan and David will be joining us in Paradise, so the saga will most certainly continue…
Since Jordan and David are now gone, we need a new source for drama.  Chris is our man.  When he sees Becca at the cocktail hour before The Rose Ceremony, he confidently tells Becca that she owes him "like 50,000 kisses." WRONG.  WRONG.  WRONG.  NO WOMAN OWES YOU A GODDAMN THING, CHRIS.  NOT A SINGLE FUCKING THING.  Becca's like don't think I don't know that you were thinking of bailing because you didn't get solo time with me after the group date.  Also, if you want to spend time with me, I need you to take that initiative.  She tells him that he has given her a lot to think about…
Wills and his plaid suit are finally sharing some beautiful moments with Becca when Chris tries to interrupt to get some more time with Becca.  Wills is very generous and tells Chris that he will give him two minutes despite the fact that Chris already had his chance to talk to Becca.  When Chris' time is up, Wills comes back to reclaim his time.  Chris tries to swindle more time from Wills, and Wills is not rattled for a single fucking second.  He calmly tells Chris that he needs to leave, and his unaffected, yet professional delivery is the magic that gets whiny Chris to give back what is rightfully Wills'.  Chris.  You're the worst.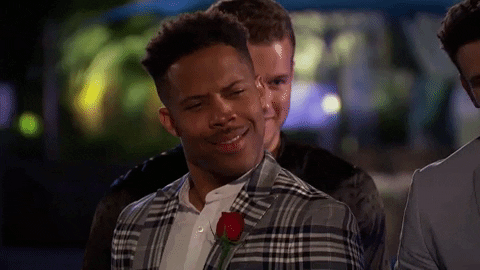 At The Rose Ceremony the unthinkable occurs, Becca reveals that next week the crew is headed to RICHMOND, VIRGINIA.  Oh, and John gets sent home and CHRIS STAYS.
Everything, I repeat EVERYTHING, is crooked.